Tile & Grout Cleaning Bend OR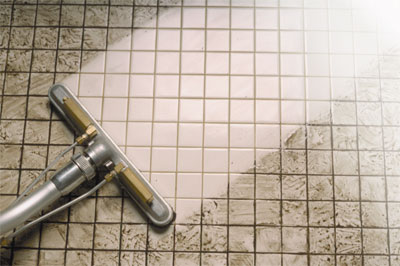 Your tired of trying to get rid of that mold and mildew that has built up on your tile floors. Even though you clean the floor dirt has settled into the cracks between the ceramic tile. You wonder why those spray cleaners never really remove that ground in dirt completely.
ProSteam of Bend Oregon offers a tile and grout cleaning service that will leave your tile clean and looking like new. Because grout is porous, it collects dirt easily. We can clean kitchen tile floors too with this method. Our staff will inspect your tile floor and bathroom tile to determine the best method to clean. Our system removes dirt and stains from showers and tile floors.
We use a specialized heat cleaning solution and the power of a vacuum system to remove the dirt. This process extract dirt deep from within the pores of the tiles and grout. It safe on the tiles but highly efficient in removing dirt. Once it is clean we add a clear sealant to keep it that way. This creates a protective barrier against dirt and grime coming back. This often make your tile look brand new.
Our service can clean your tile, stone, for bathroom floors, tubs, showers, kitchen floors and tiled hallways. The system is based on continuous blast of high water pressure to the surface of the tile. This continuous blast of water loosen that dirt, grime and mildew. After that you just wipe the surface clean. Call ProSteam today to learn about their grout and tile cleaning services.
Call Us Today! 541-633-3600